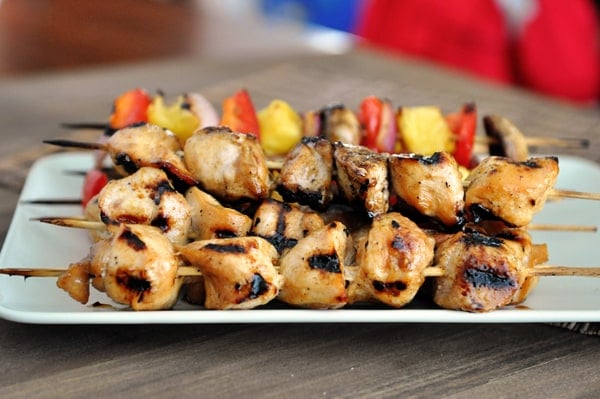 We're on a major kebab kick lately. We have them at least weekly here. I love them b/c the chicken pieces are small, so they cook quickly and they're really flavorful. Anyway, I made these last night and here I am posting them already, so they are THAT good.
I got the recipe from
Mel's Kitchen Cafe
and she grilled them up with veggie skewers as well and I'll include her instructions on those. I didn't make them b/c my family doesn't eat cooked veggies:(. Just FYI: I halved the marinade amount b/c I didn't make the veggies skewers.
Grilled Honey Chicken Kebabs
from
Mel's Kitchen Cafe
Ingredients
1/2 cup low-sodium soy sauce
1/2 cup honey
1/2 teaspoon black pepper
2 cloves garlic, finely minced
1/3 cup vegetable or canola oil
2 1/2 pounds chicken breasts, cubed
2 red bell peppers, cored, seeded and cut into large pieces
1 large red onion, cut into large pieces
8 ounces white button mushrooms, stemmed
2-3 cups fresh pineapple chunks
Directions
In a large bowl, whisk together the soy sauce, honey, pepper, garlic and oil. Measure out 1/4 cup marinade and place in a covered container in the refrigerator to use for grilling. Place the cubed chicken in a large ziploc bag and the vegetables in another ziploc bag. Pour half of the remaining marinade over the chicken and the other half over the vegetables. Seal the bags and refrigerate for at least 2 hours (can be refrigerated up to 24 hours).
If using wooden skewers, soak them in water 30 minutes prior to cooking. Thread the chicken pieces onto skewers and alternate the veggies/fruit on separate skewers.
Preheat a grill to medium heat and grill the skewers, flipping every couple of minutes, until the chicken is cooked through (about 7-10 minutes total, depending on the heat of your grill and size of the chicken pieces). The vegetable skewers only need a few minutes per side. Use the reserved marinade to brush over the chicken and veggies during the final minutes of cooking. Serve immediately.