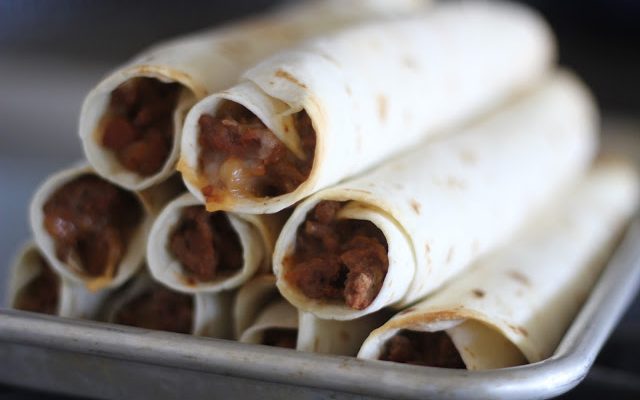 I made these and thought they were delish! I froze leftovers in ziplocs and popped in microwave for lunches! They are great! I used only 1lb of meat and it worked!


2 lbs extra lean ground beef (or ground turkey)
1 medium onion diced
1 small can diced green chilies, mild
1 recipe for homemade taco seasoning (below)
1 (8 ounce) can tomato sauce
1 (16 ounce) can refried beans (regular or fat free)*
2 cups shredded Colby-jack or cheddar cheese
flour tortillas, small to medium size
Suggested Condiments-
lettuce chopped
tomatoes chopped
olives
sour cream
Preheat the oven to 400 degrees.
In a large skillet brown meat and onion over medium-high heat. Drain off any excess liquid. Add chilies, refried beans, tomato sauce, and taco seasoning. Mix well and cook for a few minutes until bubbly. Add a little water or tomato juice if the mixture seems dry.
Spoon about 3 tablespoons of the taco meat mixture onto a tortilla. Sprinkle with about a tablespoon of cheese. Roll up as you would a taquito, not filling the tortilla too full, but rolling fairly tight, so the tortilla will not come undone easily. Place filled tortillas in a single layer onto a lightly greased baking sheet, seam side down. Bake at 400 degrees for about 12-15minutes or until the cheese has melted and the tacos are heated through.
Remove from the oven and serve with optional condiments.
Makes about 12-15 medium tacos.
Taco Seasoning
1 tablespoon chili powder**
1/4 teaspoon garlic powder
1/4 teaspoon onion powder
1/4 teaspoon crushed red pepper flakes
1/4 teaspoon dried oregano
1/2 teaspoon paprika
1 1/2 teaspoons ground cumin
1 teaspoon sea salt
1 teaspoon black pepper
In a small bowl, mix all together. If making extra seasoning, store in an airtight container.
This is enough for one recipe of taco rollups above.
**less chili powder if you are serving to those who don't like spice.
Tips:
-*I used about 3/4 of a 16 oz can of refried beans. We liked the filling with less bean and more meat.
Another option is to add a can of drained pinto beans and smash them with a potato masher into the meat after the meat is cooked. Add about 1 tablespoon of canola oil while mashing beans.
-If serving to young children (who may not eat a whole taco) or using as an appetizer, cut the tacos in half, preferably on a diagonal.
-Heat up leftovers wrapped in a paper towel for about 1 minute in microwave.