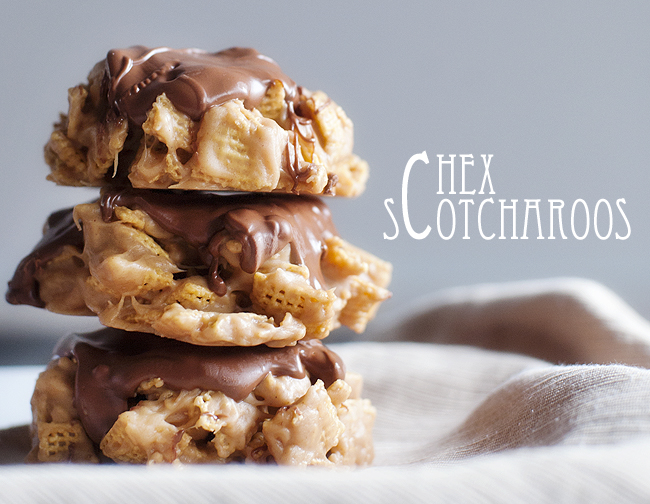 These were amazing! I enjoyed making them into the free standing cookie style instead of the typical cookie bar style. They were so soft and delicious! My frosting got a bit clumpy so i would probably leave the peanut butter out next time to see if it helped. I added some butter to smooth it out. I also doubled the chex/corn syrup/sugar mixture and kept the frosting portions the same. It was plenty of frosting.
Chex Schotcharoos
Recipe from prettyplainjanes.com
2 cups semi sweet chocolate chips
2 cups butterscotch chips
Butter a large bowl, and measure out 6 cups of Chex cereal. Set aside. Butter a 9x13 dish, OR line a baking sheet with wax paper if you would like freeform scotcharoo's like the ones I made that are pictured.
In a small saucepan, combine the corn syrup and sugar over medium heat. Once boiling, immediately remove from heat and stir in 1 1/2 cups of peanut butter. Pour over cereal and fold together. Pour cereal into the 9x13 dish, or use a large cookie scoop to drop cereal onto wax paper, and use your hands to press together and form them.
Using a microwave safe dish or a double boiler, melt together chocolate chips, butterscotch chips, 1/2 cup of peanut butter and vanilla. If microwaving, heat in 10 second intervals, stirring in between to prevent the chocolate from burning.
Once smooth, pour over cereal, or scoop onto the piles you have created.
Allow to cool completely at room temperature.