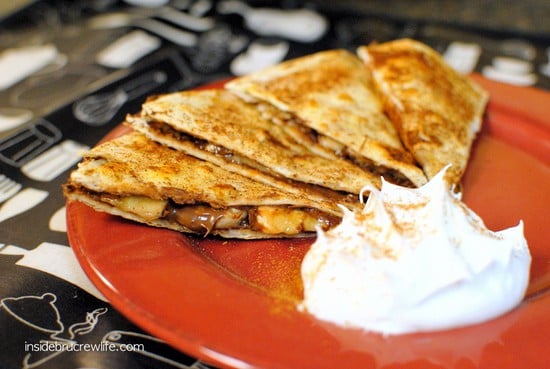 We had these for our FHE treat tonight and there were delicious! Plus, the kids could help with the dessert. I had two kids slice bananas while another spread the nutella. To make it a little more calorie friendly I just used cooking spray instead of butter, even to put the cinnamon on it. Yum, yum!
Banana Nutella Quesadillas
Recipe from insidebrucrewlife.com
Ingredients
4 flour tortillas
1 Tablespoon butter
2 Tablespoons cinnamon sugar
1/4 cup Nutella
2 ripe bananas
Instructions
Spread butter on one side of each of the tortillas and sprinkle with cinnamon sugar. Place the butter side down on a warm skillet and heat until golden brown.
Spread the non butter side with Nutella. Top with banana slices. Place another warm tortilla shell, cinnamon side up, on top. Makes 2 full quesadillas. Cut each quesadilla into 8 wedges. Serve with Cool Whip if desired. Serves 4.