This was AMAZING. It was better than any taco chicken I've ever made. It's going to be my new go-to. YUMMERIFIC!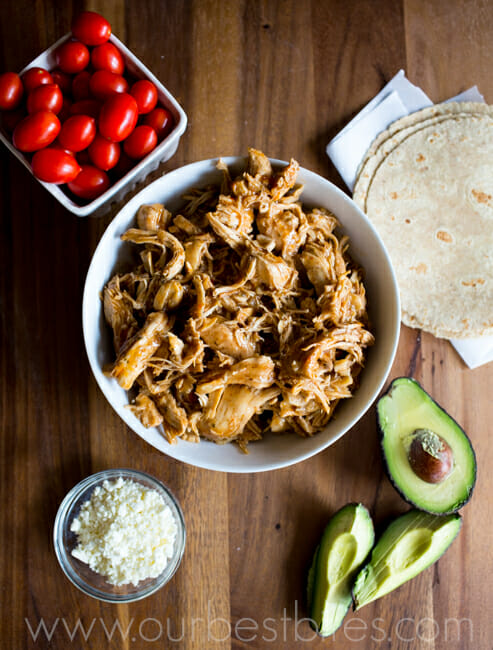 Slow Cooker Taco Chicken
Recipe adapted by Our Best Bites
Ingredients:
2-2 1/4 pounds boneless skinless chicken breasts
1/2 cup Italian salad dressing (I used Olive Garden)
1 packet Ranch dressing
1/2 cup water
1 1/2 teaspoons chili powder
1 1/2 teaspoons cumin
1 teaspoon coriander
6-8 cloves smashed garlic (don't worry about actually chopping it…unless you want to…)
1 tablespoon dehydrated onion
Juice of 1 lime
Salt to taste
Chipotle Tabasco Sauce to taste (optional)
Instructions:
Place all the ingredients except for the lime, salt, and Tabasco sauce in your slow cooker and cook for 5-6 hours on LOW or until the chicken shreds easily with a fork. When done, shred the chicken with two forks and sprinkle with lime juice. Taste and season with salt and Chipotle Tabasco Sauce (it's smokey and a little milder than the original Tabasco Sauce, so it's perfect here) to taste. Serves 8-10.