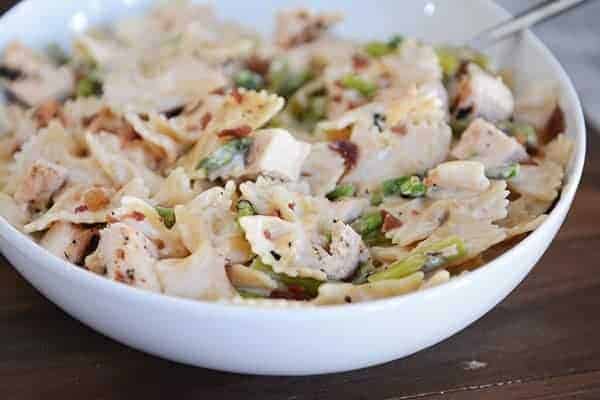 I made this tonight and here I am posting it, so it's THAT good! I actually made this without chicken and I didn't miss a thing. The bacon provided enough meat for me! Also, I subbed the asparagus for broccoli since I like it better and it's less expensive:). My kids love this too. Eloise went back for thirds!
Bowtie Chicken and Asparagus Alfredo
from Mel's Kitchen Cafe
Ingredients
3 cups cooked and cubed chicken (optional)
1-2 pounds asparagus, tough ends trimmed, cut into 1-inch pieces (I subbed broccoli)
1 pound bowtie (farfalle) pasta
2 tablespoons butter
2 cloves garlic, finely minced
3 tablespoons all-purpose flour
1 1/2 cups milk (see note above)
3/4 cup low-sodium chicken broth
Zest from lemon (about a teaspoon)
1 tablespoon fresh lemon juice
1/2 teaspoon salt
1/4 teaspoon coarsely ground black pepper
1 cup freshly grated Parmesan cheese, plus more for serving
6-8 slices bacon, cooked and crumbled
Directions
In a large pot of salted boiling water, cook the noodles according to package directions. When there is two minutes left on the cooking time, add the asparagus to the pot and cook for the remaining time. Drain the pasta and asparagus and rinse quickly with cool water (to stop the asparagus from cooking more).
For the sauce, while the noodles/asparagus cook, in a medium saucepan over medium heat, melt the butter and add the garlic, cooking for 20 seconds or so, stirring constantly. Stir in the flour and cook for about a minute, stirring, until the mixture is toasty and sizzling. Gradually add the milk and chicken broth about 1/2 cup at a time, whisking constantly to avoid lumps. Bring the mixture to a low simmer and cook until slightly thickened, 3-4 minutes. Stir in the lemon zest, lemon juice, Parmesan cheese, salt and pepper, and cook, stirring, until the cheese has melted. Add additional salt and pepper to taste, if needed.
Place the pasta, chicken and asparagus in a large bowl or serving dish and pour the sauce over the top. Toss lightly to combine. Sprinkle on the bacon and additional Parmesan cheese (if using). Serve immediately.