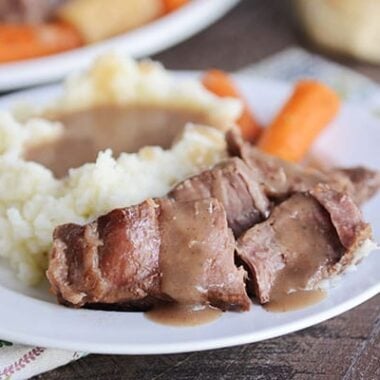 I was craving pot roast, but was kind of sick of the same old recipe, so I decided to try this one. Holy Moly. It was SO good!!! It was really different, but so, so yummy. I think this will be my new go-to!
Perfect Pot Roast and Gravy
by Mel's Kitchen Café
Ingredients:
Roast:
3 to 5 pound chuck roast, trimmed of extra fat
Coarse, kosher salt and pepper
2 tablespoons olive oil
1 to 2 large yellow onions, sliced in thick rings
3 cloves garlic, smashed
8 ounce can tomato sauce
3 cups low-sodium beef broth
2 tablespoons Worcestershire sauce
1/4 teaspoon allspice
1/4 teaspoon dried thyme
1/2 to 1 teaspoon coarse, kosher salt
1/4 to 1/2 teaspoon black pepper
1 bay leaf
6 to 7 large carrots, peeled and cut into 2- or 3-inch pieces
Gravy:
6 tablespoons butter
1/2 cup all-purpose flour
3 to 4 cups juices/drippings from roast
Directions:
Season the roast on all sides with a few pinches of salt and pepper.
Heat the olive oil in a large skillet over medium-high heat until hot and rippling. Add the roast, and brown on all sides, about 1-2 minutes per side.
Place the onions in the bottom of a 7-or 8-quart slow cooker, toss the smashed garlic on top, and transfer the roast to sit on top of the onions and garlic.
In the same skillet, reduce the heat to medium and add the tomato sauce, scraping up the yummy browned bits from the bottom of the skillet. Add the beef broth, Worcestershire sauce, allspice, thyme, salt and pepper (use less salt and pepper if you used regular beef broth and not low-sodium). Add the bay leaf.
Pour the mixture over the roast. All slow cooker sizes are different but it helps if the meat is mostly covered with liquid (or at least the liquid comes up nearly to the top of the meat).
Nestle the carrots around the roast.
Cover and cook on low 8-9 hours until the meat is very tender.
Transfer the meat, carrots, and onions to a platter and tent with foil.
Remove the bay leaf and pour the drippings/juice from the slow cooker into a large measuring cup (or into a fat separator if you want to pour off excess fat).
For the gravy, melt the butter in a medium pot until sizzling. Stir in the flour and cook for 30 seconds or so. Whisking vigorously and constantly (no lumps in our gravy!), gradually add 3 to 4 cups of the pot roast juices, until the desired consistency of gravy is reached.
Continue stirring quickly while the gravy comes to a simmer. Let it cook for 1-2 minutes. Season to taste with additional salt and pepper, if needed.
Serve immediately with the pot roast and vegetables (and mashed potatoes, of course!).