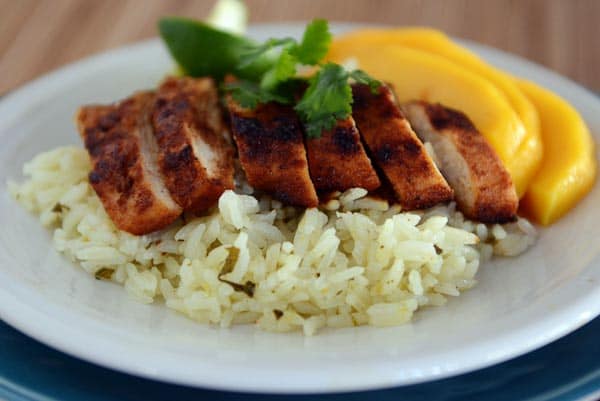 Photo from
Mel's Kitchen Cafe
I made this for dinner tonight and was blown away by it's deliciousness. Seriously. Christian said it was one of the best meals he's had in a long time. It's super easy and fast, but it's also really impressive. I served mine with the Cilantro Lime rice and it took it to a whole new level of yumminess.
Sweet Paprika Skillet Chicken
I almost always cut the boneless, skinless chicken breasts lengthwise into two thinner chicken cutlets (slicing it like you would a hot dog bun but all the way through). This means that often I can get away with using 2-3 thicker chicken breasts and still feeding our family of 7. If you don't choose to do that or the chicken isn't thick enough to cut that way, you may want to pound slightly to flatten to a more even thickness.
Ingredients
2 tablespoons packed light brown sugar
2 tablespoons paprika
1 1/2 teaspoon salt
1/2 teaspoon pepper
1 teaspoon garlic powder
4 boneless, skinless chicken breasts pounded to flatten slightly or cut in half to form two thinner chicken cutlets
2 tablespoons coconut oil (or canola or vegetable oil)
Cilantro Lime Rice, fresh mango slices, lime wedges for serving (optional)
Directions
In a small bowl, combine the brown sugar, paprika, salt, pepper and garlic powder. Pat the chicken dry with paper towels and pat the spice mixture onto the chicken breasts, rubbing it into the chicken to create an even coating.
In a large, 12-inch nonstick skillet, heat the coconut oil (or other oil) over medium heat until hot and rippling. Add the chicken in a single layer (you may need to do separate batches) and cook for 4-5 minutes on each side depending on how thick the chicken pieces are (the chicken will register 160 degrees on an instant read thermometer when cooked fully). The chicken will darken quite a bit due to the brown sugar in the spice rub. Adjust the heat if you feel the chicken is burning or overcooking - it will be dry if it overcooks so cook it just until cooked through so it stays juicy and tender.
Remove the chicken to a plate and repeat with the remaining chicken pieces, if needed.
Let the chicken rest 5 or so minutes before serving. Serve with cilantro lime rice, fresh mangoes and lime wedges for the ultimate dining experience.
Cilantro Lime Rice
from
Mel's Kitchen cafe
Ingredients
1 tablespoons butter
1 1/4 cups rice (long grain white rice works best)
2 1/4 cups low-sodium chicken broth
3/4 teaspoon salt
1/4 teaspoon freshly ground black pepper
juice and zest of 1 large lime
2 tablespoons chopped cilantro
1/4 teaspoon cumin
Directions
In a skillet or medium saucepan, melt the butter and add the rice. stir, letting the rice and butter cook for 1-2 minutes. Add remaining ingredients and bring to a boil. Reduce heat, cover and cook for 15-16 minutes. Remove from heat and let stand, covered, for 10 minutes. Fluff with fork and serve.